I just received my order of the Top Shelf boot jack. I could not believe how quickly it arrived! The boot jack looks great online but even better in person. It is a beautiful and very substantial piece. High quality work. Thank you so much, Shirley
We love the Beefcake boot jack which we ordered for our son's Christmas. I have a feeling it will be used by more than just him. We were amazed how quickly it arrived and were especially happy to get the free muck boot jack as we all wear mucks. We can't say enough about the beautiful craftsmanship of the Beefcake and the usability of both boot jacks. Thanks for your wonderful products and service.
Roger Pyper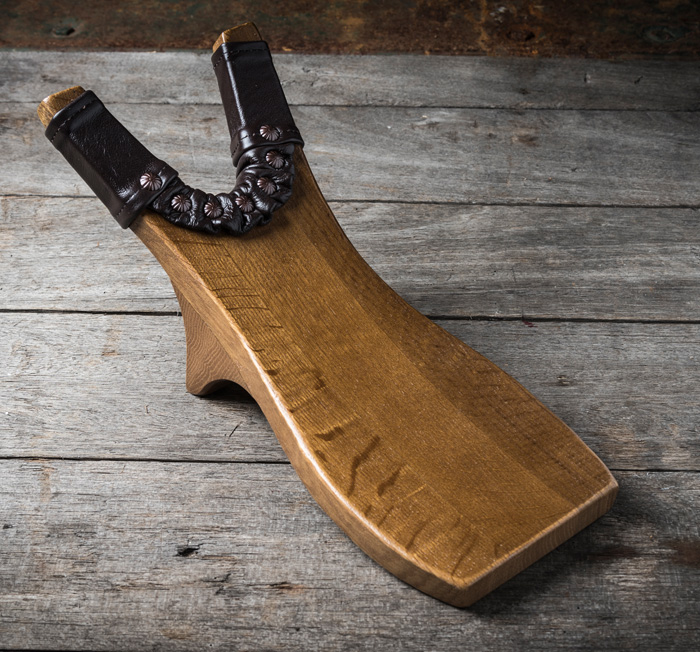 I purchased the "Beef Cake" boot jack as a Christmas gift for our son-in-law, a native Texan who is very particular about his boots. It just arrived, and I couldn't be more pleased. What a beautiful piece of craftsmanship! The grain of the wood, the hand rubbed finish and the quality of the leather padding are outstanding. It's a gift we'll be proud to give, and no doubt it will be well received and used with pleasure for years to come. Thank you very much for taking the time to make such a fine product! Jacquelyn Supple
Just wanted to let y'all know my boot jack came today.. I have to say worth the wait, very nice product. I just bought my first pair of cowboy boots from Tecovas and really like them but found them hard to get back off. They recommended you glad they did, Thank you. Elwood Lusk
I want to take minute tell the folks how much I love my boot jack. First, the way it's made, very strong and great looking. Also when you put your foot/boot in the boot jack comes right off. Fast and smooth. Also this is going last me many years to come. Thanks to the Zellers you made very happy customer.
I have some Lucchese boots as well as Tecovas boots and was searching for a functional and quality design Boot Jack of which your Tobacco Boot Jack looked like a great solution to my need. I contacted Tecovas and Abby got back to me to let me know the product was available through your website so I went ahead and purchased one. Abby says almost the whole Tecovas team uses your Boot Jack at home as well so I knew this was the one to go with. Thank you for producing such quality wooden products as true craftsmanship can be hard to come by D. Peterson Santa Barbara CA
Chuck...got our beautiful boot jack today — thank you for you getting it to us. It is literally a piece of art and will be a special house warming gift for our client here in Montana. I am a real estate broker and am always looking for that special and unique house warming gift. Pretty sure your products will always be on our list. Merry Christmas - Les Mathson, Montana
We've had ours over a year, and it is indestructible. We use it in our mudroom and it works on every type of boot and shoe we wear. Easy to clean, and handy to use. I love it! - Kathi Kendall Jefferson Co
I love my new boot jacks from Chucks Woodbarn. The product looks even better in person than it did on the website. The quality is superb. And it's a clever device for removing not just boots but any of my higher-end dress shoes without damaging or scuffing them in any way. I'm impressed and a customer for life. - Brian Spaley, Dallas, Texas
Randy's boot jack arrived the day before his birthday (thank you!) and when he opened it, he loved it! We had our best friends over last night for his birthday and we all oohed and aahed over your beautiful catalog. The boot jack is indeed by the front door where all can admire it. We are delighted to have such an example of your excellent artistry. - Janis Jones, California
I have muck boots, winter boots, cowboy boots and sneakers. This helps get them ALL off and fast.
Skip the others that are meant for shoes and buy this.
It can handle every size footwear male or female.
No more wasted money on this product. Well done!
I cannot fully describe how beautiful the items from Chuck's Wood Barn are as the pictures do not do them justice. We are a family of boot wearers of all kinds and this is the third bootjack, one for each of my sons, that I have purchased from Chuck's. The detail and craftsmanship are the best I have ever seen. My youngest son was injured overseas and he has a therapy horse that he learned how to walk again riding so he and I are in boots a lot, working in the barn, riding. These boot jacks just don't show the wear and tear of constant use and they don't mark up you boots. Thank you Chuck's for American made quality goods! Christine Cooley
Lightweight but very sturdy. Got it because of broken wrist and needed the extra help getting my work boots off from my garden. Hosed off the mud and it's like new. - Alexandra Biggs
I didn't know how much I needed this bootjack. My boots are really comfortable but a pain in the neck to take off. No more sitting down to take off my boots! For a military guy who is constantly changing uniforms this product is a force multiplier. - Dave Easterday, Kearney Nebraska
I have purchased from Chucks several times. The quality and craftsmanship are very impressive. I buy their products for my friends/ family that are "hard to buy for". Because I always find something wonderful! - Jan Cogburn Louisville Kentucky
The Beefcake is a work of art, very beautiful. Their customer service answered all my questions promptly. My Beefcake was shipped the same day I ordered it with no shipping charge. Five Stars !!!
I received my Beefcake bootjack. Clearly old world heirloom quality. I've never seen anything like it and now have a bootjack that accessorizes our bedroom. Thank you for preserving this craft. Sincerely, Alan Campbell